Introduction
In the realm of psychological thrillers, "Gone Girl," directed by David Fincher and based on Gillian Flynn's bestselling novel, is a masterclass in suspense and manipulation. Released in 2014, this film takes its audience on a dark and twisted journey through the intricacies of a seemingly perfect marriage gone horribly wrong. With its intricate plot, memorable performances, and thought-provoking themes, "Gone Girl" is a cinematic experience that keeps you on the edge of your seat from start to finish.
Plot
The film revolves around the sudden disappearance of Amy Dunne (Rosamund Pike) on her fifth wedding anniversary. Her husband, Nick Dunne (Ben Affleck), becomes the prime suspect in her disappearance and is soon caught in a media frenzy that scrutinizes every aspect of his life. As the investigation unfolds, secrets are revealed, and the lines between victim and perpetrator blur.
The brilliance of "Gone Girl" lies in its storytelling, which constantly keeps the audience guessing. The film is a rollercoaster of twists and turns that challenge your perception of the characters and their actions. It's a chilling exploration of the darkness that can exist within seemingly ordinary people.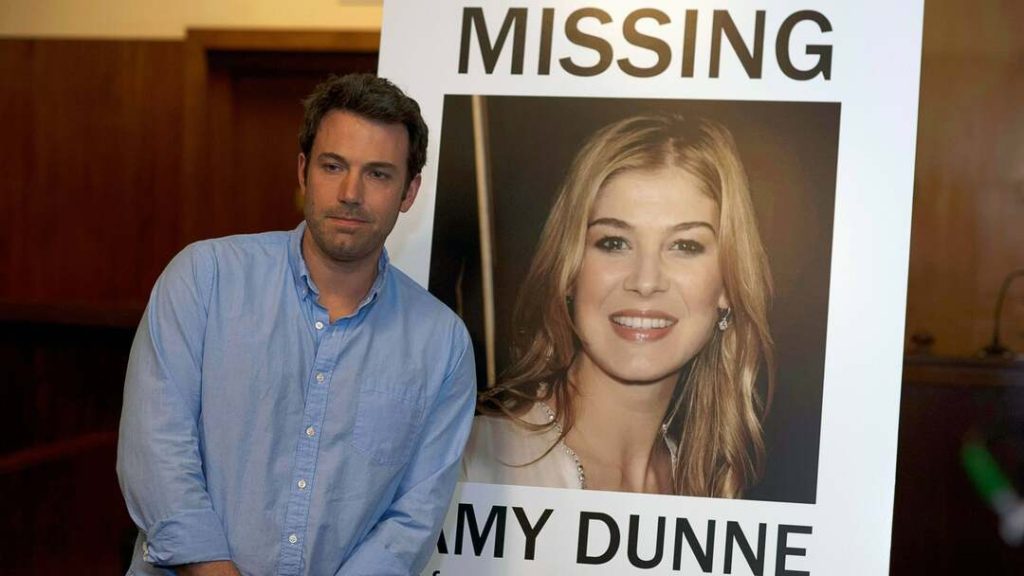 Characters
The cast of "Gone Girl" delivers outstanding performances that bring the complex characters to life. Rosamund Pike's portrayal of Amy Dunne is particularly remarkable. She seamlessly shifts between charming and menacing, leaving viewers both captivated and disturbed. Ben Affleck's Nick Dunne exudes a mix of vulnerability and ambiguity that keeps you questioning his innocence.
Themes
"Gone Girl" delves into themes of manipulation, societal expectations, and the façades people maintain in their relationships. It exposes the toxic dynamics that can fester beneath the surface of even the most picture-perfect partnerships. The film's exploration of media sensationalism and the court of public opinion adds a layer of social commentary that feels particularly relevant in our digital age.
Direction and Cinematography
David Fincher's directorial prowess shines in "Gone Girl." His signature style, characterized by meticulous attention to detail and a dark, moody atmosphere, elevates the film's tension. The cinematography by Jeff Cronenweth complements the story's tone with its use of shadows and visual symbolism.
Score
Trent Reznor and Atticus Ross, known for their work on previous Fincher films, provide a haunting and atmospheric score that enhances the film's eerie atmosphere. The music adds depth to the emotional and psychological intensity of the story.
Conclusion
In conclusion, "Gone Girl" is a gripping and thought-provoking thriller that keeps you guessing until the very end. With its intricate plot, stellar performances, and exploration of complex themes, it's a film that lingers in your mind long after the credits roll. David Fincher's direction and Gillian Flynn's screenplay create a cinematic experience that challenges our perceptions of love, trust, and the darkness that can lurk within us all. If you enjoy suspenseful and psychologically charged films, "Gone Girl" is a must-watch that will leave you with plenty to ponder.