The Marvel Cinematic Universe (MCU) has given us many memorable heroes and villains over the years, but none quite like the Guardians of the Galaxy. The misfit band of space adventurers, led by Peter Quill aka Star-Lord (Chris Pratt), has charmed us with their humor, heart, and heroism since their debut in 2014. Now, they are back for one last ride in Guardians of the Galaxy Vol. 3, the supposedly final film in the trilogy directed and co-written by James Gunn.
The plot of Vol. 3 picks up where Avengers: Endgame left off, with Quill still reeling from the loss of Gamora (Zoe Saldana), his true love who sacrificed herself to stop Thanos. He must rally his team around him to defend the universe along with protecting one of their own: Rocket (voiced by Bradley Cooper), the genetically engineered raccoon who has a traumatic past that comes back to haunt him. A mad scientist named the High Evolutionary (Chukwudi Iwuji) wants to recapture Rocket and use him for his twisted experiments, and he sends a powerful being named Adam Warlock (Will Poulter) to do his bidding. The Guardians must also deal with other threats and challenges, such as Nebula's (Karen Gillan) vendetta against her sister Gamora, Drax's (Dave Bautista) reunion with his long-lost daughter, Groot's (voiced by Vin Diesel) teenage angst, and Mantis's (Pom Klementieff) budding romance with Kraglin (Sean Gunn).
Guardians of the Galaxy Vol. 3 is a film that balances action, comedy, and emotion in a way that few MCU movies can. It delivers spectacular set pieces, dazzling CG environments, and showy, snaking, single-shot action sequences that showcase the skills and personalities of each Guardian. It also has plenty of humor, thanks to the witty dialogue, irreverent references, and classic rock needle drops that are trademarks of the franchise. But what makes Vol. 3 stand out is its emotional depth and resonance. It explores themes such as family, friendship, loyalty, redemption, and sacrifice in a way that is both touching and surprising. It also gives each character a satisfying arc and closure, especially Rocket, who is the heart and soul of the film.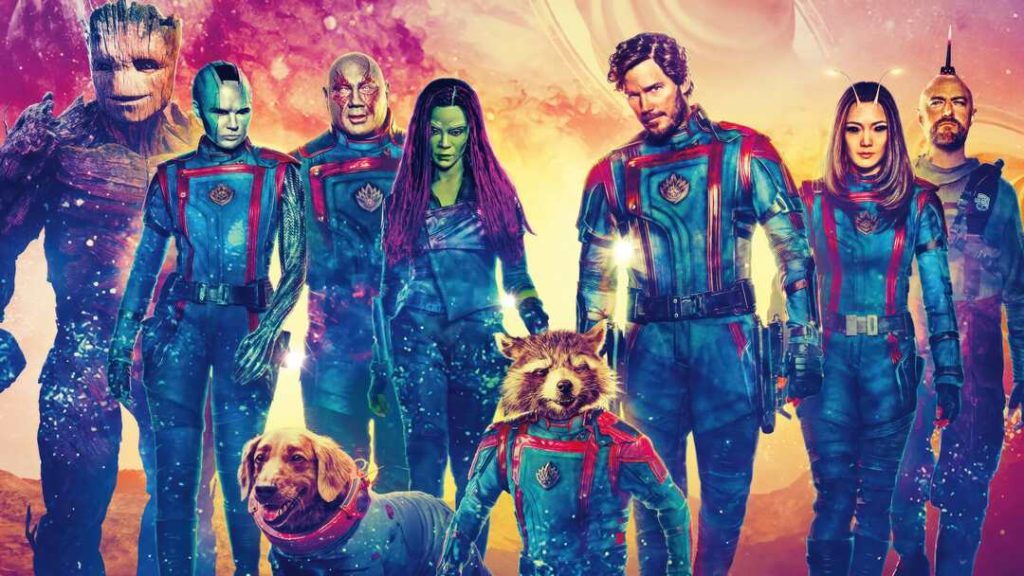 The film is not without its flaws, however. It is overlong, running at two and a half hours, and it sometimes feels overstuffed with too many subplots and characters. It also tries to achieve an importance and emotional weight that it does not quite encompass, while leaving the door open for a possible reboot or spin-off. Some fans may also find it too dark or sentimental for their taste, as it deals with some unexpectedly grim topics such as eugenics and vivisection.
Overall, Guardians of the Galaxy Vol. 3 is a fun and energetic film that ends the trilogy on a high note. It is a galactic group hug that might squeeze a little too tight on the heartstrings, but it is also a loving last hurrah for the MCU's most ragtag family. It is a film that celebrates loyalty and friendship while also acknowledging humanity's capacity for unimaginable cruelty to other species. It is a film that will make you laugh, cry, cheer, and marvel at the wonders of the cosmos.
If you are a fan of the Guardians of the Galaxy or the MCU in general, you should not miss this film. You can watch it in theaters now or stream it on Disney+ starting from July 7th. You can also check out the trailer here or Learn more above IMBD