Fast X is the tenth and supposedly final installment of the Fast and Furious franchise, which has been entertaining fans with its over-the-top action and family-oriented themes since 2001. The movie reunites the original cast of Vin Diesel, Michelle Rodriguez, Tyrese Gibson, Ludacris, and Nathalie Emmanuel, as well as some returning favorites like Sung Kang, Jason Statham, Helen Mirren, and Charlize Theron. It also introduces a new villain, Dante Reyes, played by Jason Momoa, who is seeking revenge for his father's death at the hands of Dom Toretto and his crew.
The plot of Fast X is as convoluted and ridiculous as you would expect from a series that has gone from street racing to saving the world from nuclear war. Dom and Letty are living a quiet life with their son Brian, named after Paul Walker's character who died in real life and was retired from the franchise in Furious 7. However, their peace is shattered when they receive a mysterious message from Mr. Nobody (Kurt Russell), who informs them that Cipher (Theron), the cyberterrorist who tormented them in The Fate of the Furious, has escaped from custody and is working with Dante, a ruthless arms dealer who has a personal grudge against Dom. Dom and his team must once again reunite and travel across the globe to stop Dante and Cipher from unleashing a deadly weapon that could destroy the world.
The movie is directed by Louis Leterrier, who replaces Justin Lin, the director of four previous Fast and Furious movies. Leterrier is best known for his work on The Transporter, The Incredible Hulk, and Now You See Me. He brings his own style and flair to the franchise, but also tries to pay homage to the previous films by incorporating references and callbacks to iconic scenes and characters. The movie also tries to wrap up the storylines of the main characters and give them a satisfying send-off, while leaving some room for potential spin-offs or sequels.
The main attraction of Fast X is undoubtedly the action sequences, which are bigger and crazier than ever before. The movie features car chases, shootouts, fistfights, explosions, and stunts that defy the laws of physics and logic. Some of the highlights include Dom driving down an exploding dam, Letty fighting Cipher in a prison cell, Hobbs (Statham) returning to help out his former enemies, Jakob (John Cena), Dom's long-lost brother who works for Dante, chasing Dom in a supercar that can fly, and the team driving across a collapsing bridge. The movie also features some exotic locations like Rome, Tokyo, London, Edinburgh, and outer space.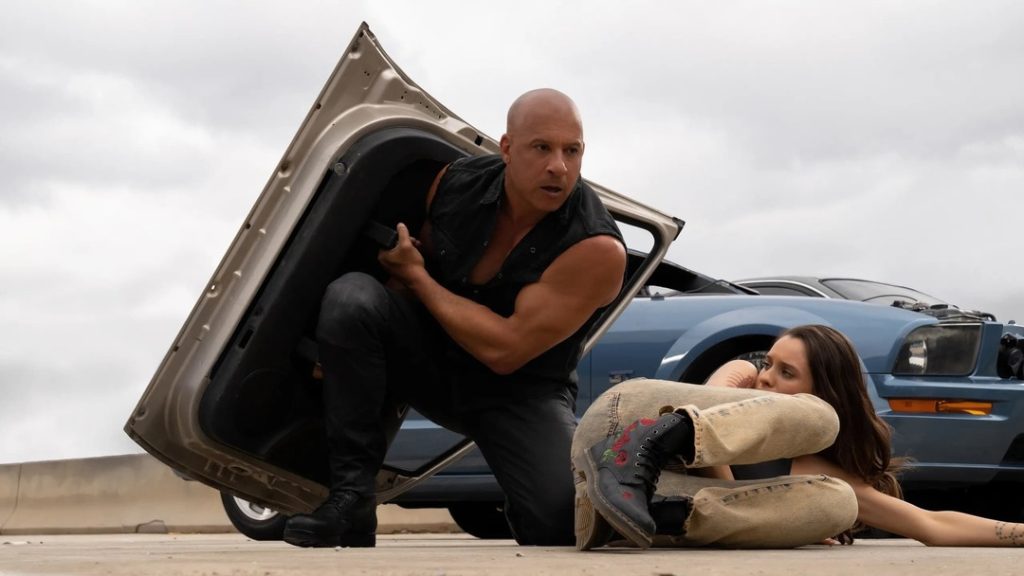 However, while the action scenes are fun and entertaining to watch, they also suffer from some flaws that prevent them from being truly memorable or impressive. The CGI and green screen effects are often noticeable and distracting, especially in the scenes involving helicopters, planes, and rockets. The editing is also choppy and confusing at times, making it hard to follow what is happening on screen. The movie also relies too much on nostalgia and fan service, rather than creating original or innovative set pieces. The movie often feels like a rehash of previous films or a parody of itself.
The movie also fails to deliver on its emotional and thematic aspects. The movie tries to explore the themes of family, legacy, redemption, and sacrifice that have been central to the franchise. However, the movie does not develop these themes in a meaningful or coherent way. The movie relies on clichéd dialogue and melodramatic flashbacks to convey its messages, rather than showing them through actions or interactions. The movie also does not give enough attention or depth to its characters, especially the new ones like Dante and Jakob. The movie wastes the talents of Momoa and Cena by making them one-dimensional villains who lack motivation or charisma. The movie also does not address some of the unresolved issues or plot holes from previous films, such as Han's resurrection or Dom's secret son.
In conclusion, Fast X is a mixed bag of a movie that tries to be a fun popcorn summer flick but also a fitting farewell to a beloved franchise. The movie succeeds in delivering some spectacular action scenes that will please fans of the series but also disappoints in terms of its story, characters, themes, and logic. The movie is not a complete disaster but also not a masterpiece. It is a mediocre movie that will leave you feeling entertained but also unsatisfied.
You can visit its IMDB page for more information.