In the world of reboots and long-awaited sequels, "Space Jam: A New Legacy" burst onto the scene in 2021, bringing back the beloved Looney Tunes characters and combining them with the NBA superstar LeBron James. This highly anticipated film aimed to recapture the magic of the 1996 classic "Space Jam," starring Michael Jordan. But did it succeed? In this review, we'll take a closer look at "Space Jam: A New Legacy."
A New Beginning:
The film starts with a glimpse into a young LeBron James's life and his early experiences with basketball. It doesn't take long for the storyline to diverge into the fantastical. LeBron and his son Dom (played by Cedric Joe) find themselves trapped in the Warner Bros. "Server-verse" by a cunning AI algorithm named Al-G Rhythm (played by Don Cheadle).
Nostalgia and Cameos:
One of the most exciting aspects of "Space Jam: A New Legacy" is the abundance of nostalgia it serves up. As LeBron and his son navigate the digital world, they encounter a multitude of Warner Bros. characters, from King Kong to the Iron Giant. Of course, the Looney Tunes characters like Bugs Bunny, Daffy Duck, and Porky Pig are front and center. This movie is a nostalgic rollercoaster, with shoutouts and references to classic films and characters throughout.
LeBron James's Acting Debut:
As the star of the film, LeBron James makes his acting debut, and it's safe to say he holds his own. His charisma shines on screen, and he successfully portrays the caring father who's trying to bridge the gap between his world and his son's. His acting may not be Oscar-worthy, but it's certainly commendable for a sports icon making his foray into acting.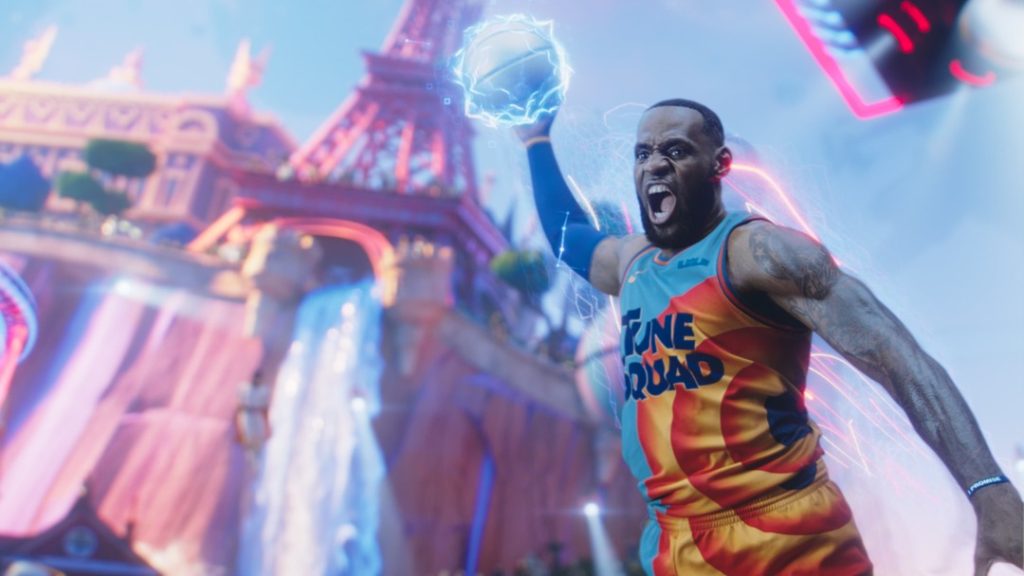 Visual Spectacle:
"Space Jam: A New Legacy" is a visual extravaganza. The animation and special effects are top-notch. The blend of 2D and 3D animation seamlessly integrates the Looney Tunes gang into a new digital environment. The basketball game sequences are thrilling and packed with creative plays and power-ups, keeping the audience engaged throughout.
Family-Centric Story:
At its core, "Space Jam: A New Legacy" is a family film. It emphasizes the importance of family, teamwork, and embracing one's uniqueness. These themes are not only conveyed through the story but also through the various character arcs, making the film both heartwarming and relatable.
Mixed Reviews:
Despite its many strengths, "Space Jam: A New Legacy" received mixed reviews from critics. Some praised it for its fun and nostalgic elements, while others found the story and humor to be lacking. The constant references to Warner Bros. properties may come across as overindulgent for some viewers.
Conclusion:
In the end, "Space Jam: A New Legacy" is a mixed bag. It's a delightful nostalgic trip for those who grew up with the original "Space Jam" and a fun family film with a few valuable life lessons. However, it might not live up to the expectations of everyone. If you're looking for a visually impressive and family-friendly movie with a basketball twist, it's worth a watch.
For more information about "Space Jam: A New Legacy" and to check out user reviews and ratings, visit the movie's IMDb