Elemental (2023) is a Disney and Pixar animated film that takes place in a world where natural elements – earth, fire, water, and air – coexist in a New York-style metropolis. The film follows the unlikely friendship between Ember, a fiery young woman from Firetown, and Wade, a watery guy from the affluent Water District, as they challenge each other's beliefs and prejudices about their respective cultures.
The film is directed by Peter Sohn, who previously helmed The Good Dinosaur (2015), and written by John Hoberg, Kat Likkel, and Brenda Hsueh. The voice cast includes Leah Lewis as Ember, Mamoudou Athie as Wade, Ronnie del Carmen as Bernie, Shila Ommi as Cinder, Wendi McLendon-Covey as Gale, and Catherine O'Hara as Brook.
Elemental is a visually stunning film that showcases Pixar's mastery of animation and design. The film creates a vibrant and diverse world that is rich in detail and color, with each element having its own distinctive look and feel. The film also features some impressive action sequences and set pieces that make use of the elements' abilities and interactions. For example, there is a thrilling chase scene where Ember and Wade have to escape from Gale, a wind-powered cop who can fly and manipulate air currents.
The film also has a heartwarming message about acceptance and understanding, as Ember and Wade learn to appreciate each other's differences and similarities. The film explores the themes of identity, belonging, discrimination, and assimilation, as the elements face various challenges and conflicts in their society. The film does not shy away from addressing some of the darker aspects of its premise, such as the oppression and segregation of the fire people, who are seen as dangerous and inferior by the other elements. The film also touches on the environmental issues that arise from the elements' coexistence, such as pollution, climate change, and natural disasters.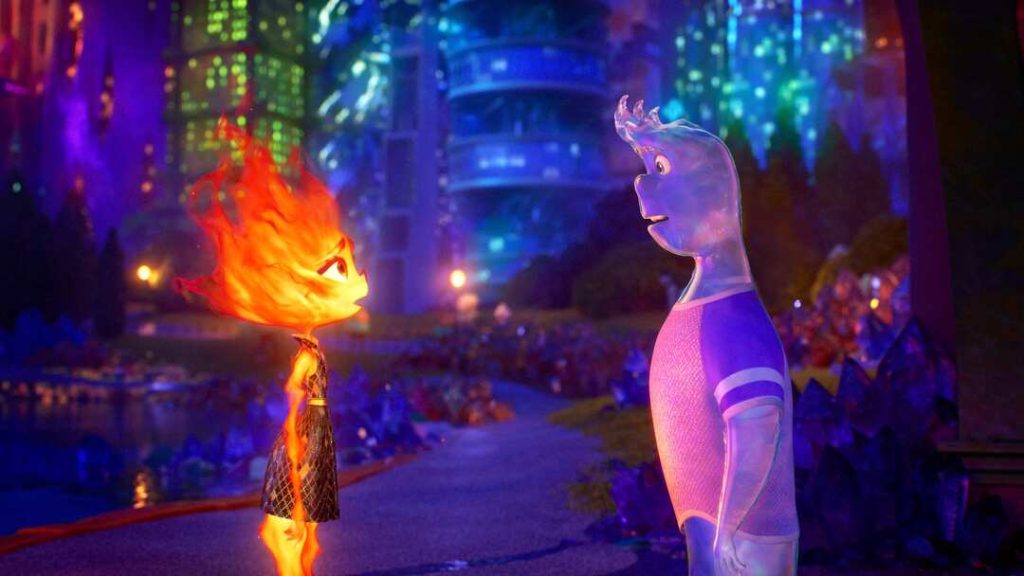 However, Elemental is not without its flaws. The film suffers from a lack of originality and creativity in its storytelling, as it follows a predictable and formulaic plot that borrows heavily from previous Pixar films such as Inside Out (2015) and Zootopia (2016). The film also fails to fully develop its characters and their relationships, as they are mostly defined by their elemental traits and stereotypes. The film relies too much on clichés and tropes to convey its message, such as the odd-couple dynamic between Ember and Wade, the villainous twist involving Brook, and the climactic showdown where the elements have to work together to save the city.
Elemental is a solid but not spectacular film that offers an entertaining and emotional experience for viewers of all ages. It is not among Pixar's best works, but it still demonstrates the studio's talent and skill in making quality animation. Elemental is worth watching for its stunning visuals, charming characters, and positive message.
You can watch the trailer for Elemental here: Trailer
You can also find more information about Elemental on IMDb