If you enjoyed the first Meg movie, you might be tempted to check out its sequel, Meg 2: The Trench, which promises more giant shark action and underwater adventure. But before you dive into this film, you should know that it is not as fun, thrilling, or original as its predecessor. In fact, it is a disappointing and dull follow-up that wastes its potential and its cast.
The plot of Meg 2: The Trench is simple enough: Jason Statham returns as Jonas Taylor, a deep-sea diver who works for the Zhang Institute, a research facility that studies the prehistoric megalodons. Along with his colleague Jiuming Zhang (Wu Jing) and his daughter Meiying (Sophia Cai), Jonas embarks on an exploratory mission to the trench where the megalodons originated. However, they soon discover that there is an illegal mining operation in the trench, led by a ruthless villain who wants to exploit the natural resources and the meg specimens. Jonas and his team must escape from the trench and stop the bad guys, while also dealing with multiple megalodons and other sea creatures that threaten their lives.
Sounds exciting, right? Well, not really. The problem with Meg 2: The Trench is that it takes too long to get to the good stuff. The first hour of the film is mostly spent on exposition, dialogue, and boring scenes of people walking or swimming in the dark ocean. The film tries to add some humor and character development, but it fails miserably. The jokes are lame, the characters are bland, and the chemistry between Statham and Wu is nonexistent. The film also lacks any sense of tension or suspense, as the megalodons are barely seen or felt until the final act.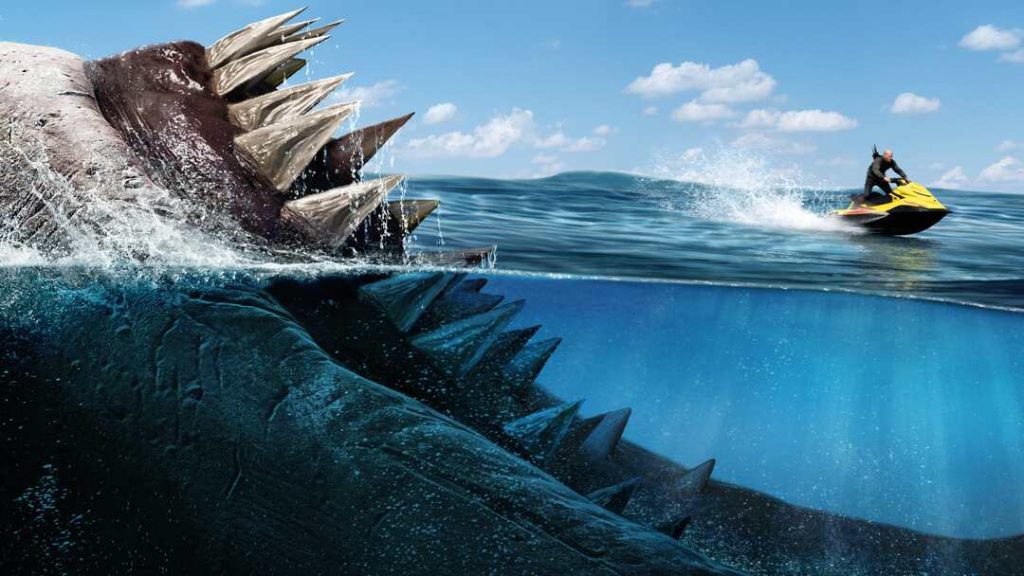 The only redeeming quality of Meg 2: The Trench is the last 30 minutes, when the film finally delivers some campy and over-the-top action. The film shifts its setting to a resort island called Fun Island, where Jonas and his team encounter more megalodons, a giant octopus, and a horde of soldiers. The film becomes a ridiculous spectacle of CGI carnage, explosions, and stunts. There are some entertaining moments here, such as Jonas riding a jet ski while being chased by a meg, or Meiying using a remote-controlled submarine to distract a meg. The film also pays homage to some classic shark movies, such as Jaws and Deep Blue Sea.
However, these scenes are too little too late to save the film from being a complete flop. Meg 2: The Trench is a poorly made and poorly written sequel that fails to live up to its premise and its genre. It is not scary enough to be a horror movie, not funny enough to be a comedy movie, and not smart enough to be a sci-fi movie. It is just a boring and bland movie that should have stayed in the trench.
imdb link here:  IMDB.